Dear Friends,
We graduated another wonderful group of 63 students from the Restore Leadership Academy. Can you believe it's our third class to graduate already?  These students are our best in academics yet. The preliminary scores on the National exam placed the students at Restore as the number one performing school in all of Northern Uganda.  Not only that, but our students competed for the National Soccer championships again this year and one of our students has been named the National javelin champion for all of Uganda.  
 Not bad for a school that started out a few years ago in one rented room with nine students.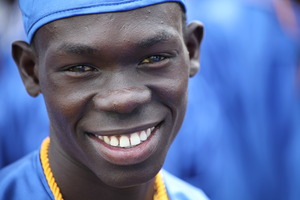 Among the surprise visitors to the graduation this year were Dean Jim Gash from Pepperdine Law School to congratulate the students he has engaged and Darla Anderson of Pixar Animation Studios. Darla is the producer at Pixar of A Bugs Life, Monsters, Inc., Cars, and Toy Story 3.  The kids continue to be blown away, as do we, by the unlikely ways that God has brought all of this together through you. We don't feel like an organization; it feels more like a pick-up basketball game and none of us need to have matching shirts to play; we each just bring our game.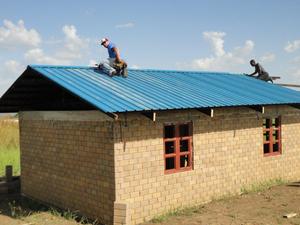 Construction Update: We purchased 40 acres to move our school to and are just completing the first six buildings so that we can move our 250 students to their new campus. On this property, we will raise our own food, and we'll also be raising a group of Ugandan leaders. The generous donations we've received have gotten us up to the point where we are ready to start putting roofs on the six buildings. The cost of the roofs is about $10,000 per building and when we raise the funding we need, we'll put the roofs on and move the kids in.  It's an exciting time in the lives of these kids and the mood among them is electric.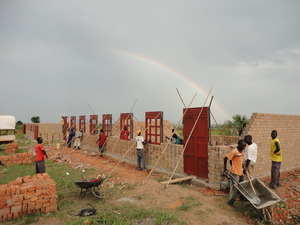 ENGAGE: Thanks to the amazing outpouring of care for these young Ugandan leaders, we now have 130 of our students Engaged.  This leaves 120 students who are still looking for a person or a family to connect with them.

If you have an interest in Engaging a student or two, let us know. The cost is only $30 per month and you will literally change the trajectory of an entire life. To sign up or learn more, click here.  Also this holiday season, if you are shopping online and want to shop in our Alternative Christmas Catalogue, you can find it here.  
Many thanks for all that you do!
Bob